PROUDLY SERVING
THE MIDWEST REGION
– Locally-based field sales and service professionals
– Knowledgeable service team
– Experienced, full time technical service department
– State-of-the-art online dealer business portal
– Same day shipping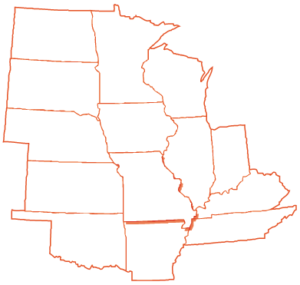 OUR BELIEFS
"Our goal is to be your preferred supplier for all of your outdoor power needs. We strive to accomplish this by taking care of our customers, providing expert knowledge, tools and resources. Our job is to make your job easier."
– Featuring a wide selection of the strongest brands in the industry
– Customer Service Representatives that take pride in their knowledge of the industry
– Simple and fair freight and return policies
– Flexibility. Call in or log in. Would you prefer paper or electronic documents?
---
SERVICE
"Need a hand? Call one of our experienced Customer Service Representatives for assistance with parts look up and availability or with a question about submitting warranty. In a hurry? Submit your order via fax or use our state of-the-art dealer resource portal."
– Fax, Email, Click or Call your order in
– Our customer service representatives are waiting for your call or email
– Dedicated technical service team
– Free online parts lookup provided covering the products that we feature
---
WORKING TOGETHER
"We want to grow with you. We are constantly trading knowledge with our customer and manufacturer partners to ensure that we are up to speed with what is going on in our industry. We offer annual technical training classes and update schools throughout our territory to share that knowledge."
Our customer service representatives understand our dynamic industry.
Our dedicated technical service team works with our manufacturer partners to develop meaningful training.
Our experienced sales professionals are happy to answer a question, help stage your marketing materials or work an open house with you. Just ask.